Initial Situation
Cooled tube reactor for exothermic reaction. Catalyst deterioration above average due to the high thermal load. Decomposition components of the catalyst have been found in the product.
The Task
Identify the right amount of cooling water to avoid any catalyst deactivation due to the high thermal load.
---
Project Management
Modelling
Design a rigorous simulation model of the integral exchanger reactor to calculate the heat transmission.
Modelling of the reaction kinetics to determine the energy balance.
Combination of both models.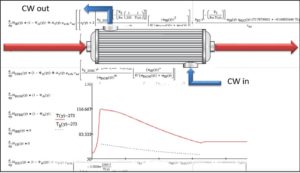 Insights
The required temperatures to thermally deactivate the catalyst couldn't be reached in the model, not even using the current amounts of cooling water.
Following customer feedback we discovered that also the uncooled part of the heat exchanger (calotte at the inflow) was filled with the catalyst. Another modelling based on adjusted conditions showed a significant temperature peak in the uncooled part of the reactor.
Design Proposal
Calotte at the inflow shouldn't be filled with the catalyst.

Installation of an additional reactor bed after the tube reactor discharge to increase the conversion.

There is no additional cooling necessary due to the low discharge at the end of the reaction.
Process Engineering Design
New Equipment
Revision of the existing equipment
Thermal load of the tube reactor